Intelligent power distribution
M

ore transparency and safety

in critical construction phases
Your challenge
on construction sites
Nothing works on the construction site without electricity. But how can you ensure that uninterrupted supply is assured in critical and high-risk construction phases?
If the distributors are overloaded, for example when a bridge is moved, troubleshooting alone costs valuable time – which you do not have. 
We work together for your success




Our solution
for more transparency on construction sites
With the intelligent construction site power distributor, you can keep an eye on your construction site. Even when you are on the move in real time. 
It not only shows who has used how much electricity on your construction site and when, but also measures various temperature values and records air and material humidity. 
If critical situations threaten, it warns you automatically – no matter where you are. 
In this way, you not only have a view of the current situation, but also gain valuable insights into the conditions under which the trades were created. 
The remote-controlled RCD test (type B) including automatic documentation saves you time that you can use for more important things – building. 
Industrie standard


Stable industrial components that meet the high requirements of a construction site.

 

Ready for immediate use


No on-site IT staff required, independent logging into the cloud.

 

Real-time monitoring


Measured values can be displayed worldwide in real time.

 

Open & expandable


No vendor lock-in, no proprietary data formats.

 


But open interfaces: ready for AWS IoT, SIEMENS

 

MindSphere

, Schneider Electric Exchange

,

 

and many more.
Answering the important questions
The intelligent power distributor iBSV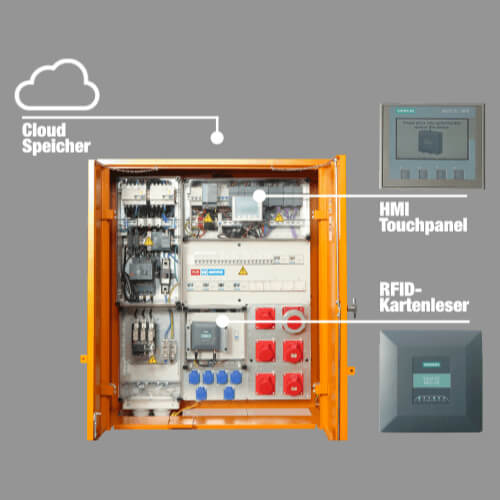 Who actually uses how much electricity and when?

 

Where is there waste?

Isn't the main connection totally oversized and therefore too expensive?

Is the drainage pump running reliably?

How can the RCD test be carried out and documented in a cost-effective way while still conforming to the rules?

 
Would you like to keep an eye on your construction site?
Give us a call
 

+49 911 / 131 312 – 53 or send us an Email. 
We will be happy to provide you with an individual offer.